Cannon Wheels At A Wagon Wheel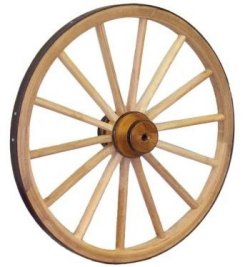 Our Cannon Wheels, Handmade Cannon Wheels, Custom Cannon Wheels, are made for firing cannons. Our Wood Cannon Wheels are made from select Hickory Hard Wood in the USA. Our Wood Cannon Wheels are not just a scaled up version of our half scaled Cannon Wheel. Each larger size Cannon Wheel has a larger hub, spokes, and felloes.
We are a small family owned and operated business, located in the mountains of Eastern Kentucky and Eastern Pennsylvania. All of our products, wood Cannon Wheels, Wagon Wheles, Carriage Wheels, Wagons, are made of selected hard woods woods, crafted with the concern for quality and durability that is a part of our mountain heritage. We never use composite materials in any of our products.
Our Wood Cannon Wheels are made of hickory wood and designed to look like the civil war era Cannon Wheels. These Wood Cannon Wheels are extremely strong, solid, designed and dished for working, firing cannon use. We have over 48 years of building Handmade Cannon Wheels.
Wood Cannon Wheels are available in the following sizes, 15", 24", 30", 36", 42", 50", and 57". We also handmake Custom Cannon Wheels to fit any size requirements, need, or project. For custom Cannon Wheel quotes, please Contact Us.
Our Wood Cannon Wheels are not only authentic Cannon Wheels, they can be used to add that rustic, country, or western decor to any room or landscape.

Cannon Wheels
To view our Cannon Wheels on real working cannons view below Gallery
To view a larger image, Click On A Picture
Axles and Custom Cannon Wheels:
We can make Custom Cannon Wheels and Cannon Wheel Axles for most any project, for axles and Custom Cannon Wheels prices please Contact Us. Custom orders can require up to 4 - 6 weeks..
SHIPPING:
We double check each order for the lowest shipping rate before we ship your order, if we find a lower shipping rate your Credit Card will be refunded the difference.
We ship orders as soon as the order is completed, however, please allow 14 days for delivery. If you need faster delivery, please contact us we will try to accommodate your request.
Contact Us For Shipping Discounts On Four Or More Items.
While we only sell quality hickory hard Wood Wagon Wheels, Wood Cannon Wheels, Carriage Wheels, Wagons, Wagon Wheel Chandeliers and Wagon Wheel Hub Lamps at A Wagon Wheel. You will find a large selection of quality hand crafted wood products (Churns, Buckets, Whiskey Barrels Trunks, Chest), at the country store online at, Custom Wagons . Should you have questions about any of our products, please Contact Us